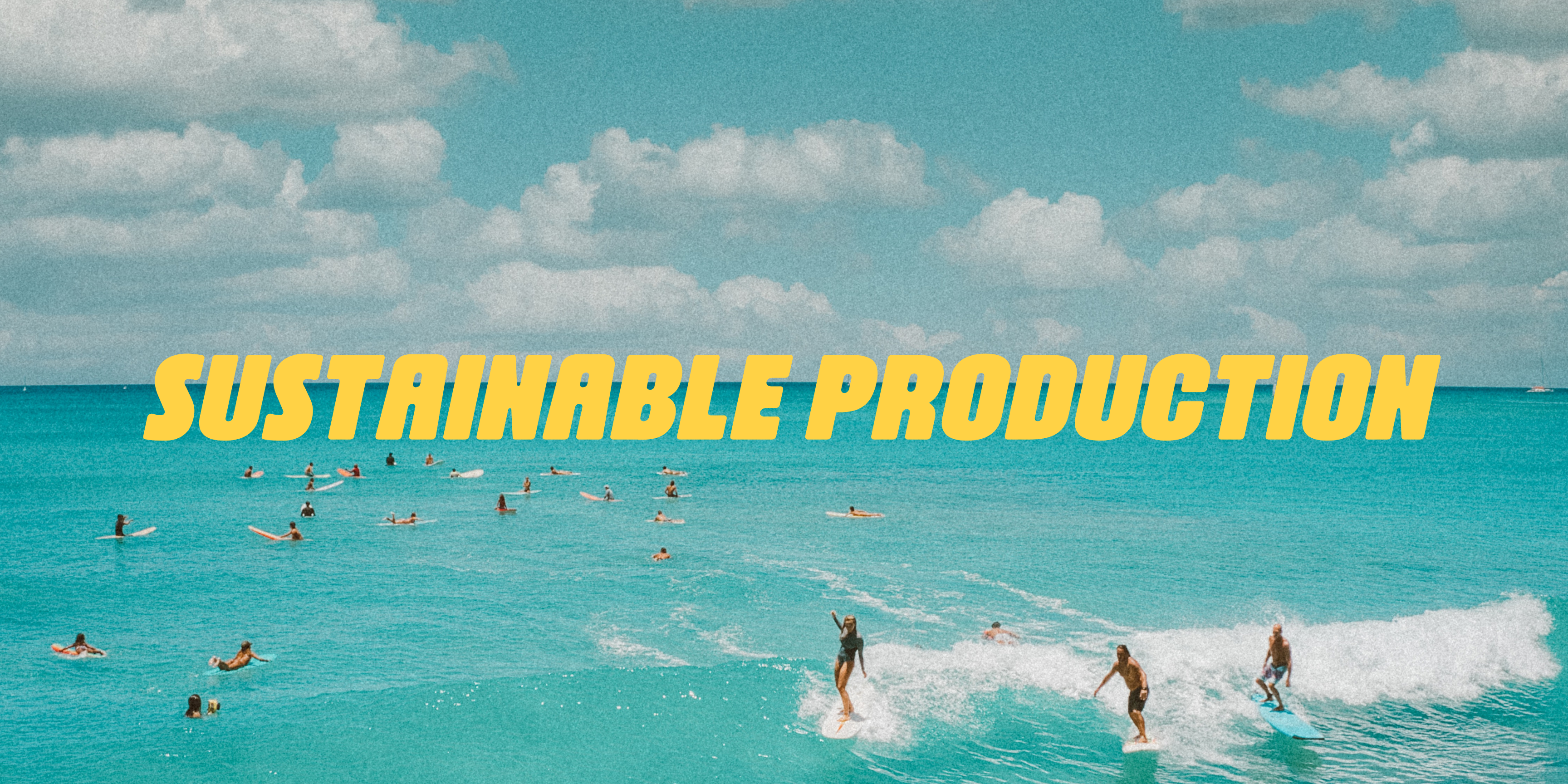 We're on a mission to be the most sustainable surf brand on the market
Here you'll find the all the information about our sustainable fabrics, ethical production, plastic-free packaging: all the ways we're making cool clothes without exploiting people or the planet.
You shouldn't have to choose between having style and saving the environment.
We know that the fashion industry is inherently bad for the environment. But fashion is an integral part of who we are and how we express ourselves. We believe that we shouldn't have to choose between style + saving the environment. We are revolutionizing the surf industry through radical transparency and commitment to the environment in everything we do- no matter the cost. Because let's face it, sometimes we just want a dope new tee or sweatshirt... and if we're going to buy things anyway, we believe they should never exploit people or the planet.
Sustainable Fabrics
POLYESTER MADE FROM WATER BOTTLES: All of our fleece apparel is made with RPET: which is polyester made from recycled plastic water bottles!
ORGANIC COTTON: all our t-shirts are made with 100% GOTS-certfied organic cotton.
Ethical Production
MADE IN CALIFORNIA: We're happy to announce that as of fall 2022, all of our garments are made ethically in Los Angeles, California.
WRAP CERTIFIED: Our factories are WRAP certified and remain industry examples of social responsibility to their employees. The WRAP certification is a comprehensive facility-based model that has made it the world's largest independent social compliance certification program for the apparel/textile industry.
Non-Toxic Production
Toxic chemicals and their subsequent waste is an extremely harmful part of the fashion industry. That's why we're committed to non-toxic production: for the planet, the oceans, workers, and you!
OEKO Tex Certification: OEKO-TEX® is the world's certification for textiles tested for harmful substances. Each garment component has been tested for harmful substances and declared safe. The OEKO-TEX® certification is designed to ensure that the result of apparel dyeing and wet-processing does not have a negative effect on human or environmental health. This ensures that garments are safe for manufacturers, consumers, and the environment.
Plastic-free supply chain
Mailers: We use either compostable mailers or cardboard boxes to ship your gear to you (depending on the size/fragility of the items). The cardboard boxes are post-consumer material and 100% recyclable.
Plastic: We are on a mission to be a 100% plastic-free company. As of 2022, we're proud to say that we have a 100% plastic-free supply chain!
Any questions or concerns?
Part of our mission to become the most sustainable surf brand on the market is radical transparency and openenness with our community. If you wave any questions or concerns about anything related to sustainability, ethics, or just want to say hi, please email us at hello@saveoursurf.co